Page Right Column
Welcome
Welcome to the West Virginia Infrastructure and Jobs Development Council website. The site is a source of information for both the general public and active project participants. Use the Project Center to get instructions on starting and completing projects. Use the Active Projects area of the site to search for and view projects in your area and details of active projects all around the state.
For any questions regarding our policy and procedures, please click here. These same documents are also available to all certified users in the Tools section of their dashboards.
Updated Features
Use the IJDC GIS and Active Project search to find out what is going on in your area!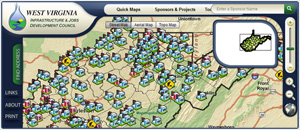 Click the GIS Map Services button under the Active Projects tab to view the GIS research application tool. Use the GIS Quick Maps, Sponsors & Projects, Tools & Analysis, Quick Search, and Find Address tools to quickly find any active project in your area on the map.
You can also use the Active Projects quick search to find a detailed list of projects that are in your area. Use the search results to find detailed public information about any of the active projects in our database.
---
New FAQ section
Use the updated FAQ section to find answers to your questions. The updated FAQ section will help answer your questions and point to other areas of the site that might offer detailed instructions.
---
Project Member User Guides available!
User Guides are available for download in the Project Center area of the site. Download the complete User Guide or Guidance Documents broken down into sections in the Project Center. All User Guides are available for download in Adobe PDF format.